Type type type, delete delete delete. Repeat. As I sit in Kingwood, Texas in the backyard of my parents home, I take note of the late April breeze in my hair and the smell of the freshly planted garden. Firsts can be a challenge, and this post, the first post, has been postponed for many months now and today, in this moment is when the first becomes a start. The summer I turned 16 my grandparents took my younger sister and I on our first European adventure. We received our gift under the circumstances that we must journal throughout the trip. My prior relationship with writing was like many developing 16 year olds. I had dabbled with sparkly diaries filled with crushes and elementary school gossip that developed into an intermediate school curriculum demand, souring my relationship with writing. Once I stepped onto the cobblestone of Italy those pages became my records of emotions. Writing took on a personal relationship like nothing I had ever experienced. With many arts, if we allow it, life can sometimes get in the way. I continued to  journal off and on over the past decade, but in the recent years have found it to be my daily peace, my release, my way of processing the world around me and most recently it has become my form of communication with The Great Creator. The pages of my journals are filled with emotions, stories, prayers, that are now transitioning from intimate pages to public posts. I have been praying over this transition for many months and I feel strongly that the time has come to use my voice on the platform my business has provided.
Fear has been my roadblock the last two years to go live with a blog on the Art of Style website. My business, which I imagine I will explain in more detail in a future post, often places me in a position of comparison to bloggers. Extremely talented women, who are changing the way people shop. Although there are over laying aspects that could lend themselves to an Art of Style fashion blog, my relationships with my clients are very personal, the experience for them is intimately life changing and I have struggled to develop a way to use this platform without my clients feeling exposed.  Although I say I am not competitive, oh boy have I realized how similar comparison and competitive energys are.
I recently have opened the eyes on my heart that there is no rhyme or rhythm to many things in today's world. Simply because I am an image consultant, a blog does not have to be all about #OOTD pics and style tips, but can be a brilliant platform to reach people whom may need their heart kissed by the words on my heart. Not to say that I will not be sharing #AOSapproved products and handy travel tips, because that is a major part of my life, but much of these daily entries are due to the fact that I am in a honey moon season with Our Father. I have had a full on heart transplant and am a living testimony of someone who has had chains broken and been awakened to the gifts The Lord has blessed me with, unlayering whom I am meant to serve with those gifts A N D made a successful career out of it! 1 Corinthians 6: 19, Do you not know that your body is a temple of the Holy Spirit within you, whom you have from God? You are not your own, for you were bought with a price. So glorify God in your body. This verse is pertaining to sexual immortality, which was a major chain broken from my life, more on that to come, but I have really been neutered by this verse.  Our bodies are simply a temple. The Holy Spirit needs each of our bodies for something different. I have no structured agenda. My goal for this platform is transparency, community, growth, globalization, all with the eyes of our hearts on our father, OH! and a few sparkly tops and yummy cashmere along the way.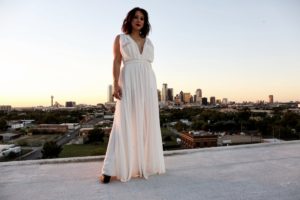 TRUST HONESTY. TRUST ACTION. YOU ARE ENOUGH.