My 2017 year kickstarted with a month in India. Having been privileged with the experience to travel a good portion of my life, I had no intentions of India captivating my heart. God has hold of my heart and mannnnn did he make it fall heavy for this country.  While wrapping up my stay I had the opportunity to attend ZEE Jaipur Literature Festival.  I am a literature nut and was over the moon to be attending the Lit Fest. Writing has been a daily outlet for me for the past decade and the intimacy the festival creates between the speakers and the audience is soul enriching. Close your eyes and imagine hundreds of horns honking in the streets, an American gal with her back pack on, with a highlighted schedule of speakers for the day in hand, snacks of course in the bag so I wouldn't miss a beat; it was as if I was embarking on a first day of school. I was staying with a dear friend's family and their driver had so graciously dropped me off. The numbers of attendees to this festival is of the largest in the world. 10,000+ attend the week long festival each day! On my first day as Sanjoy K. Roy kicked off the festival a wave of emotions flourished inside me and sprinkled from my tear ducts down my cheeks, streaming glitter eye make-up along with it. I watched over 40 people speak on panels the first day and could not wait to hit that bookstore! The topics were interesting, conversational, modern and so different than anything I had ever experienced. I choose two books that caught my eye and recently cracked the first one,  Go Kiss the World : Life Lessons for the young Professional by Subroto Bagchi, one of the founders of MindTree. I plan to do a book review each time I finish a reading, but I wanted to highlight a quote in the book that seamlessly wove with something I experienced this week.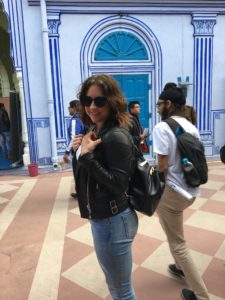 Earlier this week I was feeling this funk, almost like a heaviness over me. Part of my cleanse is to balance out my emotions, because I am A L L over the place on any given day and it is greatly affected by certain foods I eat. I am also learning the times I eat certain foods has a major role in the digestion to emotion balance. The body is a very interesting thing when you begin to listen to it. Anyways, earlier this week I was feeling all sorts of waky. Loneliness was swirling around, anxiousness about this cleanse, frustration for the previous disrespect of my body, and not feeling like I had accomplished enough throughout the day. I boiled some water, made myself a cup of green tea and simply sat with the Lord. I started to sing to him as I find, for me, the words flow organically from the heart in the form of a song. The things that were unlayrering were good, nothing new, until then oh yeah there we go, we hit a high note and I felt him. I knew he was there. I felt him grab hold of my heart. It is hard to explain. Which duh all intimate moments with the Lord are so unique to the individual, so REAL and feel so heavy, but like that warm heavy wool blanket has wrapped you up so tight heavy. In an earlier post I spoke about my heart transformation this past year. I literally feel like I am in the infant stages of life again. Relearning how to speak, how to love, how to eat, how to share my gifts, how to work, how to share and the list goes on and on. Well this specific evening the Lord showed me I need to let that old Ashley go. To bless her with gratitude for her strength, but really release her to die and let the new heart flourish in this temple that is his. I know I know it probably sounds totally loco, but man did it feel good. As I wept at his feet and I knew in my heart that this was the part that I had not yet accomplished or even understood about this healing process it was such an interesting experience. There were no fireworks or little angles that came and danced with me, simply tears and images flashing through my mind of things I was forgiving myself for, things I was forgiving others for, it was like a slide show of images clicking through my mind being blessed with my tears of gratefulness. I saw my little blonde curls as a child, blossom into that college Jersey Shore phase. I asked the Lord if there was anything symbolic to conclude this peaceful death and I got nothing…. I asked for him to bring it to me in a dream and I got a little somethin somethin… but still nothing I could put to action. As I have gone throughout my week I have looked for signs. I have felt lighter. But truthfully nothing like what I thought would radically change after the intimacy I undeniably experienced that night.
This morning as I was journaling I was writing about a quote from the book, Go Kiss The World, that I really took away from. It took almost 4 days for my soul and brain to absorb the quote. "It takes much time for an individual to form a perspective and even longer for a perspective to be changed." When I first read this I underlined it. I was like DANG that is profound. I first interpreted it as others changing their perspectives of me in this "born again place". This morning as I was sitting with the quote it hit me…. I have lived 25ish years before entering this new 'perspective' of life. When you are born again you see things differently. They say it. It is impossible to grasp until the eyes on your heart are opened. Patience is not a virtue that I naturally practice. "I was baptized, I changed my life, now I want to be perfect for you God." But ohhhhh wait, I am human. It takes time for our perspective to change. It takes time for us to let ourselves go and be reborn again, letting those places that had been dark, blossom with light. He is so patient. Oh my goodness, if I started putting a penny in a jar for how many times I thanked the Lord for his patience I would have my unborn child's first trip to Europe fund in no time! HAHAH 🙂
Today as I looked at this quote I had a pull on my heart to share it on this platform. He is so good. He is so patient. As he manifests things in our lives and we are transformed, all that transformation is to be nourished. Allow for this to blossom with peace. Even though my world revolves around God, not everyone in this world respects Him in that sense. So sometimes we need to give ourselves some time for our perspectives to adapt with our strengthening hearts to the world as it is around us. Thats what makes His warriors strong for us to go out and enrich the wandering lives.
Rather than a verse I want to leave you with some Jams today 🙂 Enjoy
Sparking Eyes by MCD Official
New Orleans – Original Mix by Naxxos
Miss Mood – Original Mix by Novika
Born Again by Josh Garrels
Breathe By Seeb, Neev
Sunshine by Flight Facilities & Reggie Watts