I have had an on-off love affair with reading my entire life. Those AR points in elementary school were my jam, and then come high school, well boys and clothes took over. My reading habits, although still very dedicated, contained of Teen Vogue and Cosmopolitan. As I have recharged from the text book years reading has become what I spend a large portion of my days doing. Mornings begin with devotional reading and my bible, then to enter #GIRLBOSS mode I am that loco gal that actually reads ALL of her emails. Yes every JCrew and Neiman Marcus email you get a day and mindlessly delete after a subtle glance, this gal reads them. I like to know what my clients are reading. I like to know what words the retailers are using in their emails. I like to read magazines, because well DUH I just can not get enough of magazines. PORTER is my favorite. I am always in the midst of reading at least one book, I try not flip back and forth between books, but I just can not help it sometimes! As we unlayer more of this electronic journal I thought it would be fun to incorporate book reviews! I mostly read non fiction, educational books about business development or the fashion industry. If you ever have a fabulous recommendation please shoot me an email! I am open to any and all books.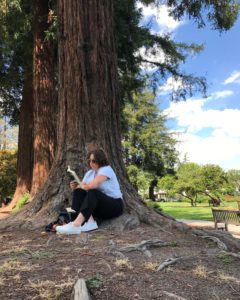 I introduced a quote I pulled from the book Go Kiss the World : Life Lessons for the Young Professional in a previous post. I purchased this book, written by Subroto Bagchi, in Jaipur India at the Literature Festival. The book began as a speech Bagachi delivered that received astounding reviews. The book is about Bagachi's layers of experience in climbing the career ladder to then be one of the founding fathers of MindTree, a compnay who's DNA is imagination, action and joy. MindTree is an eternal provider of intellectual solutions and houses some of the most brilliant and kind hearted employees.  Bagachi's mother told him on her death bed to Go Kiss The World and that is exactly what he has done. Overall this book was a good read, I took away advice that one desires to receive over a coffee with a mentor.  In total transparency I am going to hit you with the meat of the book and unless you have a heart for India, or understand the land there, this book is not something I would jump to recommend. Simply becomes a great deal of the book refers to his upbringing, specific places and the culture of India. I luckily have a heart for the land so this info sparked my curiosity, but did little to teach me things or paint a picture in my mind without reverting to Google.
My overall take away from the book is that you must know yourself: your values, your strengths, your weaknesses. You must find those whom have common threads, but their own strengths to come together and blossom. A leader does not mean be the best and do everything. A leader is an orchestrator that can see the larger picture, always in tune with reality and alert for anything. Similar to dressing for the job you want, you must run your business like you want your business to develop into. 
As a young business owner the title of the book was quick to catch my eye and the more I read the more I desired a team to help me with my business. It made me feel a sense of comfort that the time it is taking me to get my business off the ground is ok. Yet as soon as financially possible I need help in order to take my business to the next level. My favorite thing about the book was the light Bagchi shines on the relationships in his life. His family members are woven throughout his journey, as are those he mentored and whom mentored him.  Mentoring is something that I love doing, as I am so blessed to have found my passion at such a young age, I love uplifting others on their journey, but I think it is important to understand that mentors come and go. It is ok to have someone in your life whom you learn from and they are there to inspire and uplift you, but as our souls develop and we blossom as individuals, sometimes our paths stop intersecting with people and that is totally normal and OK!
Bagachi as a leader who understood it was crucial to stay in tune with reality, while it was also his job to alter reality. Sizing up the realities on the ground, opportunities ahead and doing the most with his connections. Understanding that the fastest way a company will die is a lack of cash flow. Bagachi and his wife made many sacrifices but always lived with a postured heart to preserver together. He was brave and what I would say lived without fear based on how he handled situations, although he shines light into financially fearful times he walked through. He seemed to always understand that problems only get larger when left unattended and whatever the incident, you must learn to absorb all the details and then figure out subsequent damage control. Something Bagchi sited from one of his mentors was to not make decisions under challenging circumstances. Ask for more time for consideration, allowing yourself to step away and make decisions after your emotions have settled. There is such a peaceful strength that resides amongst the Indian culture. It is refreshing to look at business from a point of view that was raised in a completely different culture, maybe a smidge less than that American comfort 😉 As our world becomes more and more globalized with each passing day, I encourage you to read books by authors from other parts of the world to broaden your perspective. It is like taking a trip on your couch!
Some of my favorite lines from the book… 
Life becomes fastinating if we observe it even as we are living it.
…more than just living you life, the capacity to behold it is even more beautiful. 
Sometimes success is just so close, it looks unreal. 
When your outlook changes from "What is good for me? To, "Where is the organization hurting and how can I make a difference?" Your professional landscape changes. 
When you embrace the uncertain, life opens up unusual new paths.
Seeds sown way back bloom as flowers, in ways one can never fathom. 
The Journey was the Reward. 
Success is your ability to rise above your discomfort, whatever be your current state of wealth. You can, if you want, raise your consciousness above your immediate surroundings. 
In order to listen you must first suspend all judgement. 
While it takes time to build perceptions, it takes even longer for perceptions to change. 
The importance of data when taking decisions cannot be underemphasized. 
There are no 'A' team leaders and 'B' team leaders- there are only different types of leaders who make the teams the way they are. Leadership is about personal character. Someone who can attract and retain talent that is better than themselves in many aspects. 
Never stop fighting with the strengths of your principals. 
Adopting simplicity in thinking, communication and strategy is often the most difficult task, before anything else, it requires people to be comfortable with who they are. 
Leaders must continuously view and build infrastructure at three levels: physical, intellectual and emotional.
Focus on those issues that fall in the overlap of your zone of concern and zone of influence. 
Real men say sorry. Shorten the path from the head to your heart. 
After typing all this out for you I am like dang, this was a great book, full of so much powerful and comforting knowledge. Now if I were talking to my 23 year old self I would never change a single breath, because my life has been so magical, even in it's darkest of hours. Yet the advice I would give to those with the desire to launch a business is to know your heart and have your peeps. I consider myself STILL in the start up stages after almost 4 years of being a business owner.  I was developing as an adult while I was also developing a business which was extremely challenging. When you own a small business, it is YOUR heart and soul. It can be lonely. It is challenging. It is about walking into uncharted territory day after day. You have to be incredibly secure in yourself in order to build a strong foundation for your business. It is crucial to understand that YOUR foundation must come before you can start developing the foundations for your business. That was not even a concept I had swished around in my brain until I realized about 2 years ago I needed to define who I was as a person, sit at the feet of the Lord and understand who these gifts are meant to serve. Let me give you a little hint…. my foundation without the Lord was full of cracks. I was over promising myself to too many engagements. I was abusing the 'freedom' of not having a set schedule. I was getting involved with the wrong clientele. Again all lessons I would not change for the world, but things I hope others are able to learn from. Hit me with your book suggestions, next up on my reading list Heaven is for Real.