A major part of being an Image Consultant is the shopping portion for our clients. To make things seamless for the client it is crucial to not only know the stores, but also know the fits inside the store. It is not like "Oh yeah, you have narrow hips go to LOFT" Once you get there how the heck are you supposed to know between the Riviera in Marissa Fit or the Riviera in Julie Pant?! Well that is why you hire a professional ( or seek out these handy informational posts!). Someone to put in those hours in the fitting rooms for you.
We are currently working on a corporate project, redefining their dress code.  While working on this project we have the opportunity to get into the stores and do a little recon for their employees.  I wanted to share a few of my favorite finds from the fit session today! We are hosting fit sessions all week so be sure to check back in for the other store reviews. Today we hit JCrew, LOFT, Anthropologie, White House Black Market, and Gap. Yes my feet are propped up currently. Man oh Man shopping is an exhausting obsession.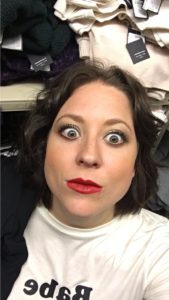 CASE STUDY: CANVAS CLOTHING AT A REFINED CASUAL LEVEL 
Keep in mind the store reviews are based on the Art of Style professional opinion. When we are reviewing a store based on a contracted project we shop with the client in mind. This project requires mostly black and white, refined casual clothing. We are referring to it as canvas dressing, as the company is an accessories line with beautiful pieces these outfits need to showcase. As an independent firm we are not linked to any specific stores, allowing us to provide an unbiased opinion.
Loft was the trouser champion for the day. They had multiple styles and fits in ultra comfy fabric. Plus they are always having a sale online! Our favorite cut was the Essential Skinny Ankle Marissa Fit. The rise was comfortable, the fabric is machine washable and will not stretch on you or wrinkle throughout the day. Unfortunately the white is not #AoSapproved  but the black and navy where awesome! Online it comes in Petite, Regular and Tall cuts, ranging from sizes 00-18
It not only requires major shopping endurance for our job, but also loads of will power to say NO to pieces this good! (Although chances are its coming home with Mama tomorrow!) The Bi Stretch Sailor Skirt was perfect in so many ways! It has the adorable button detailing that is oh so trendy right now, to take a black pencil skirt and make it feel more Spring. It is long enough to be office appropriate and it is not going to wrinkle on you!
The sister to the sailor pants, the Bi-Stretch Sailor skirt is the perfect summer pencil skirt. We loved where it hit on the waist and the length to a respectable, yet breathable place on the leg. The front buttons act as an elongating flattering detail.
Some mornings require a throw on and go dress. The Tassel Dress  from LOFT is ultra soft and breathable, while the sheen rayon finish provides and office appropriate look. Pair back with lace up flats or a block heel to finish off the office look.
Generally a more tricky cut to fit, Jcrew is also a hirer price point, with quality that simply does not reflect. The designs however do lend themselves to a modern feminine style that is hard to find elsewhere. During our fit session the Martie Pant caught our attention due to its high rise, stretch cotton material, side zip and flattering angled pockets. However, this pant is not for someone whom carries any weight in their mid section nor has a bum. Great for gals with narrow hips. The fabric was dynamite.
The sale section at Jcrew has some rather eye-catching pieces, yet online we had much more things grab our attention. They have a fabulous white ruffled skirt on sale that we would happily take from office to oysters. The skirt comes in two colors and ranges from 000-18, also available in petite and tall sizes.
Suggestion : just don't pay full price at Jcrew… They have an abundance of tops online for women whom are less busty. Most of the tops are sheer and need layering or a jacket to wear over them. The details on Jcrew clothing however do add dimension to a look.
Total transparency Gap stole our curvy girl heart in the trouser department. Price point is dynamite, while the bi-stretch fabric is an answered prayer. Girls with a booty the pocket placement on the Bi-stretch skinny ankle pant is perfect. These pants are like wearing a legging, while looking office appropriate.
The Poplin Pleate Tie shirt is one of the best version of a white blouse we have seen at the under $50 (after promo code) price point. The fact that there are no pockets is dreamy. The tie around the waist is subtle, but skims the feminine curves. Love the three quarter length sleeves. The top really checks all the boxes.
Admittedly a knit fabric can make some of our clients a smidge hesitant. The change in weaving right through the mid section may also raise some red flags, but we wanted to showcase the Ribbed Turtle Neck Tank because for those who are fearless enough to try something like this out, typically put it on repeat. Great for women with longer torsos.
A totally under rated store in our opinion. We are just as guilty always forgetting about the treasures that reside in WHBM.
A sale SCORE at WHBM – The side stripe track pant available in short, regular and tall, is on sale for under $50!! It was a team jaw drop moment when we saw these babies. The athleisure trend has undoubtably been taking first place among the trends. Love the neutral colors and that you can pair these with a sandal for play, sneaker for run around and a pump for the office.
Is an easy way to elevate your wardrobe with style details, that are still in comfortable fabrics. The price point at Anthro is undeniably higher than most retailers, but we put our stamp of approval on the styles. Our clients generally put their Anthro pieces on repeat, a little cost per wear math for you. We loved their easy tees that are not going to fall flat with a statement piece of jewelry.
Not exactly our go to for corporate pieces, but the dress selection at Anthro we love for the unique designs like the Seamed Poplin Dress. Faltering for all body types, the fabric will not wrinkle on you, can go office, to date night, to a wedding and a funeral!
Maybe not your typical office shop, but we do not believe in giving our clients "typical clothing". The drama in the Antilles Ruffle Pant makes us want to waltz into that board room and take command. Perfect to pair back with a cropped blazer or a light weight sweater. This pant is taking you places. If your office is more conservative we suggest a hook and eye be put in at your calf to close the slit while in the office and then let the ruffles move at the office happy hour! You will be putting off resourceful and bossy vibes! Your Welcome 🙂
Whew! We know that was a lot of precious info. Tag @artofstyle_aos in any #OOTD pics you post of you in these items! We love to see how our readers style our finds! Also feel free to DM us with any questions or things you would like for us to investigate and post about! XO